[Korean Cosmetic Review] TONYMOLY Floria Nutra Energy 100 Hours Cream 50ml
[Korean Cosmetic Review]
TONYMOLY Floria Nutra Energy 100 Hours Cream 50ml
TONYMOLY Floria Nutra Energy 100 Hours Cream 50ml
We introduced Tonymoly Floria Nutra Energy Skin Care Set before.
Among them, I would like to introduce Tony poly Floria Nutra Energy 100 Hours Cream that is the most popular even single product!
Let's find out why this product is so popular in Korea and why Coscore strongly recommends this product from now on!
TONYMOLY Floria Nutra Energy 100 Hours Cream 50ml
No matter how chilly the weather has become, we have to do outdoor activities. There may be people working, camping, and those who do outdoor activities for various purposes may not help but worry about dry and rough skin, right?
If you live in the cold wind, your makeup will split and the important thing in this case is basic care and moisturizing!
TONYMOLY Floria Nutra Energy 100 Hours Cream 50ml
This Nutra Energy 100 Hours Cream is perfect for those who are worried about dry and rough skin. It forms a moist skin barrier deep in the skin and lasts 124 hours of moisturization without thirst.
It has a thin and very soft texture. It contains fermented argan protein and popping Argan Oil Capsules to help deliver nutrients and moisturization deep into dry and tired skin.
It contains a popping Argan Oil Capsules that provide concentrated nutrition and full moisture to the skin that is insufficient even after applying it. It has a soft and sticky cream texture, so it applies very smoothly to the skin and helps to finish silky.
In addition, it is a cream that makes the skin dense and firm with natural ingredients so that it can be reborn as healthy and moist skin.
TONYMOLY Floria Nutra Energy 100 Hours Cream 50ml
It is a convenient product to squeeze and use in the form of a pump and it is a practical product that can be carried out on the day you need it because it is a proper size and capacity of 50ml. When you feel dry, you may have felt dry from the inside of your skin. This Nutra Energy 100 Hours Cream is the product that relieves such dryness as much as possible. It makes your skin look more lively and makes your skin look younger 😊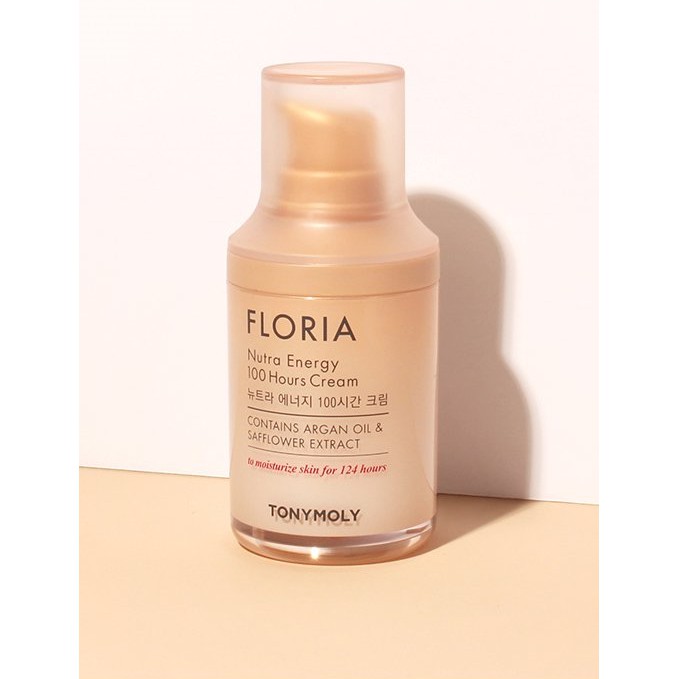 TONYMOLY Floria Nutra Energy 100 Hours Cream 50ml
There must have been many people who felt skin dry because basic care cosmetics evaporated quickly after applying them to their skin. You, not anyone else, can be the main character of your clear and moisturized skin if you are with Nutra Energy 100 Hours Cream that nourishes and moisturizes your skin for a long time! Meet Nutra Energy 100 Hours Cream with discounted price on the Coscorea website 😊
---