Recreate IU's Makeup Look From Her New Video "Strawberry Moon"
 Recreate
IU's

Makeup Look From Her New Video "Strawberry Moon"

 
In case you missed it, K-pop star and Hotel Del Luna actress IU released a new single this week titled "Strawberry Moon".
From the outfits to the makeup looks to the sets, the sweet music video captures the romantic and whimsical vibes of the song. IU describes the single as "the things that happen inside of me when I fall in love are a more unbelievable fantasy than the strawberry-coloured moon in the night sky in June that looks like it was made with Photoshop.
I hope that people who listen to this song can remember those fantasy moments that might not come often, might not come again, but that everyone experiences at least once in their life," according to Soompi. Cute and poetic, isn't it?
 A radiant base
If you're looking for a new daily makeup look inspiration, take a cue from IU and recreate her "Strawberry Moon" looks below.
Because the music video has a touch of fantasy, IU always had a bright spotlight on her face that represents the moon's glow. You can mimic that glow — of love, can we say? — on IU's skin throughout the video with a cushion foundation that has a radiant finish. Radiant cushion foundations often have light-reflecting flecks that make any light, natural or artificial, bounce off your skin in a flattering way.
HERA Lingerie Collection Glow Lasting Cushion [21N1]
Recreate IU's look with
 the 
HERA Lingerie Collection Glow Lasting Cushion.  
It contains oils and mineral powders that give your skin luminosity. It also has hydrating and antioxidant ingredients to make your skin glow from within.
Natural but slightly rounded eyebrows
IU's brows were kept in their natural shape, so don't go crazy with plucking or shaving yours.
Straight eyebrows were quite trendy in Korean beauty looks in the past decade because it creates a more youthful appearance. However, over time, it has evolved to become more natural and rounded in shape. No more blocky brows here! IU has a simple brow look where a light hand was used to fill in any gaps and add more definition.
ETUDE HOUSE Drawing Eye Brow (7colors)
Recreate IU's look with
 the
ETUDE HOUSE Drawing Eye Brow
The pomade formula in pencil form allows you to create thick and fluffy brows with ease. It boasts a waterproof formula that sounds ideal for our humid Southeast Asian weather.
Some puppy eyeliner
Puppy eyes refer to the downward application of eyeliner.
 "Puppy eyeliner" is also a popular K-beauty makeup look we see in IU's "Strawberry Moon" music video. Instead of the traditional winged liner, the "wings" go down and follow the natural curve of the eyelid. It creates a doe-like look that makes you appear youthful and innocent.
CLIO Sharp So Simple Pencil Liner (4 Colors)
▷SHOP NOW◁
Recreate IU's look with
a pencil eyeliner, for more control. Pick up the 
CLIO Sharp So Simple Pencil Liner in Brown, which has a two-millimetre tip that allows you to effortlessly create a defined puppy wing.
Some glitter on the 
aegyosal
In a behind-the-scenes vlog, IU's glitter eye makeup is clearly seen.
Another K-beauty trick we see on IU is applying glitter under the eyes. IU's look had a lot of it on her aegyosal, or the fatty bags on your under eyes, but you can also use just a small amount close to the lower lashline. According to K-beauty, this fatty pocket only appears when you smile so adding glitter (and some light contour, if needed) to emphasise it makes you seem like a cheerful person.
NATURE REPUBLIC Twinkle Gemstone Glitter (#04 moon stone)
Recreate IU's look with the NATURE REPUBLIC Twinkle Gemstone Glitter which comes in #03ROSE QUARTZ, #04 MOON STONE, and #05 RUBY. While IU uses opal and blue glitter to compliment her very fair skin, you can choose a colour that suits your skin tone. For warmer skin tones, use the #04 MOON STONE with its gold glitter. Meanwhile, cool skin tones can pick opal glitter as their go-to like IU.
Berry-stained lips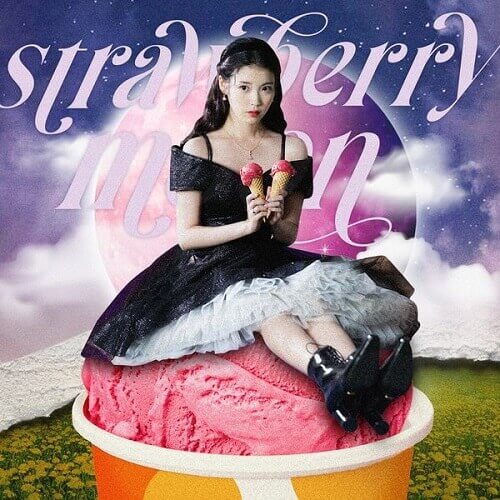 Lastly, add a touch of strawberry red on your lips! IU wore two different shades, one that's a more natural berry pink and another in a deeper plum-like colour. The pink lippie was worn for most of the music video, from IU's "bedroom" to her sitting in a flying car. The plum-like colour can be seen in her actual "moon date look" with the black, voluminous dress.
ROMAND Juicy Lasting Tint
 Recreate IU's look with the  ROMAND Juicy Lasting Tint (24 peeling angdoo) in Gallery and Naughty. Gallery has a mauve rose tone that is similar to the one IU wears for most of the video. On the other hand, Naughty has a wine stain hue that's super trendy among girl crush K-pop concepts. This particular lip tint's formula contains squalane and hyaluronic acid to hydrate your lips, as well as vitamin E to help keep it smooth and not chappy.
Do you think IU's "Strawberry Moon" makeup look will be your new everyday one?
---