[Korean Cosmetic Review] SOME BY MI Snail Truecica Miracle Repair Cream 60g
[Korean Cosmetic Review]
SOME BY MI Snail Truecica Miracle Repair Cream 60g
SOME BY MI Snail Truecica Miracle Repair Cream 60g
Today, We would like to introduce a high-humidification cream containing snail extract. If you want to have the same firmed skin as before through cosmetics that seem to be drooping and have wrinkles on your plump skin as soon as possible, please pay attention to the products I am introducing today!
The most popular Snail Repair Cream is the Some By My Snail Truecica Miracle Repair Cream that is frequented by many people who raise stress-collapsed skin barriers again and tone up dull skin tone and regain vitality! Almost everyone knows that sticky snails' mucus is a really good ingredient for the skin. It is a product that strengthens the sensitive skin barrier with a highly concentrated snail mucus
SOME BY MI Snail Truecica Miracle Repair Cream 60g
Snail Cream that contains black snails and five-layered ceramide components build up a solid skin barrier, helping to create healthy skin that does not easily become sensitive to moisture and external irritation!
It is a highly concentrated snail cream full of snail mucus but it can be used freshly without stickiness so it is satisfactory for those who are sensitive because it does not have harmful ingredients. In addition, it is not a cream that has little irritation after skin testing, so even people with thin and sensitive skin can use it without any burden. Many people used to use snail cream several times but the texture is probably the most unique among the snail creams you used to use.
That is why it applies well and gives a fresh feeling. In addition, the biggest advantage is that you can use it without skin trouble!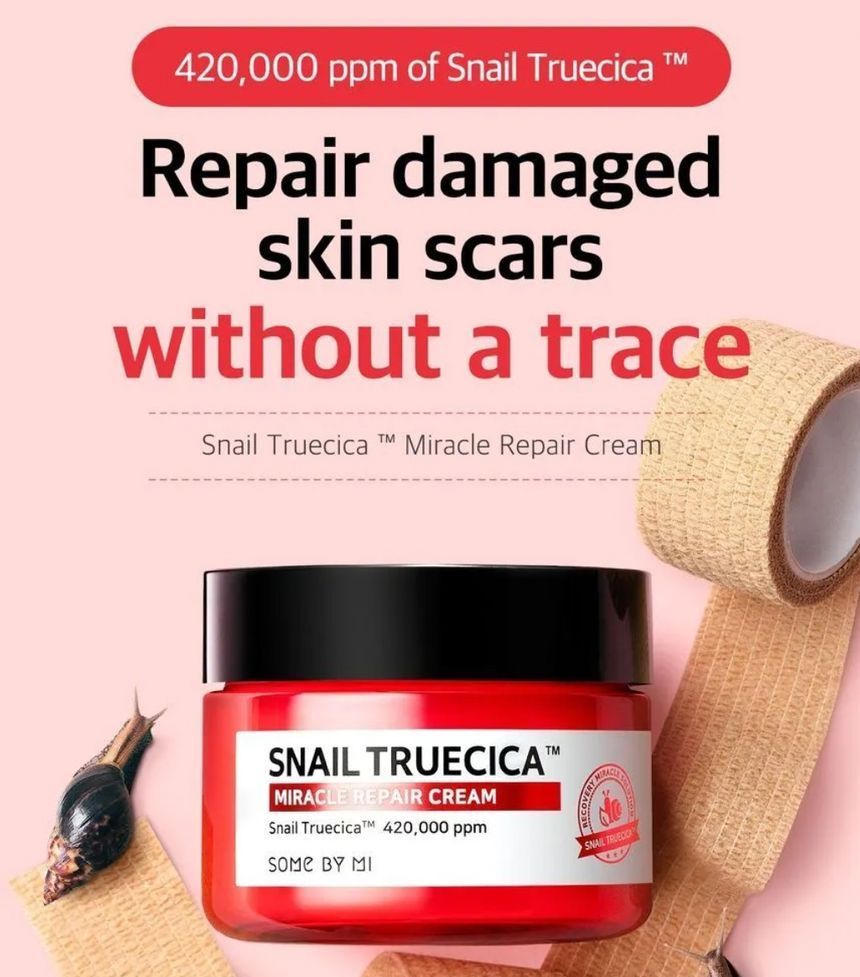 SOME BY MI Snail Truecica Miracle Repair Cream 60g
When you open the product, it is a cream with a clear feeling. You can tell at a glance that the texture is different from ordinary cream. So it is a texture that feels that watery. It really slides and stretches like snail mucus. It is watery and sticky so you will feel like real snail mucus, not a cream.
The weather is so good that you feel hot during the day but it is chilly and the air is dry in the morning/evening so many people feel dead skin cells and skin tightness, right? Your skin looks less elastic and wrinkles are highlighted so you can feel old. For those who are like that, try to take care of your skin again with Some By My Snail Truecica Miracle Repair Cream!
SOME BY MI Snail Truecica Miracle Repair Cream 60g
It is a cream but it is a little watery, so you use it little by little. Even if you apply a little, you can spread it well on your skin perhaps thanks to the watery texture. You will be satisfied with the feeling of slipping, rolling smoothly and moisturizing your skin! It is a snail cream that is good for skin recovery and regeneration and it is good for moisturizing with a 5-layered ceramic ingredient so it is also good for moisturizing and moisturizing cream!
When absorbed by the skin, it does not feel sticky so it does not feel stuffy so the satisfaction after use is high with a fresh finish! So regardless of the weather, it is a cream with a freshness that is good to use 365 days a year. In particular, it is suitable for recovering the face that was prone to irritation and contamination while wearing a mask.
SOME BY MI Snail Truecica Miracle Repair Cream 60g
Because of the strong moisture, you can feel moist as soon as you apply it and because it is a highly concentrated snail cream, you can feel that your skin is getting better even with a small amount. In particular, it is highly recommended for people with sensitive skin and it is not sticky and does not feel stuffy even after use, and it is a moisturizing cream that delivers moisture deeply so it is very suitable for dry skin.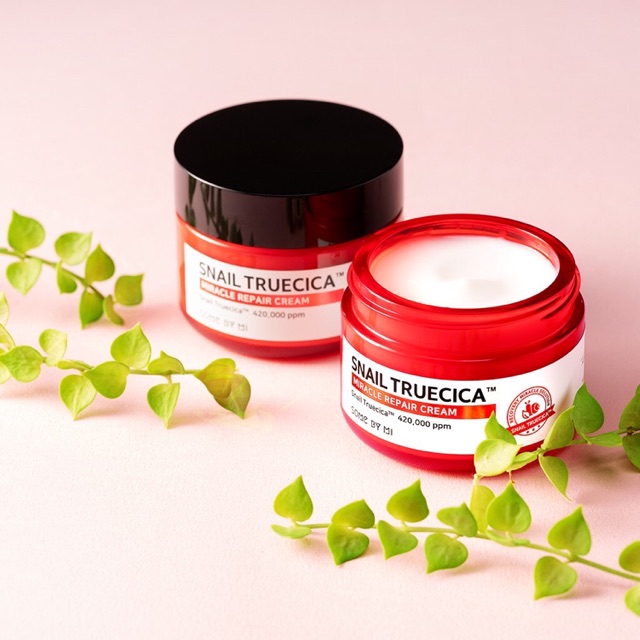 SOME BY MI Snail Truecica Miracle Repair Cream 60g
---