[Korean Cosmetic Review] Laneige Cream Skin Refiner Mist
[Korean Cosmetic Review]  Laneige Cream Skin Refiner Mist
 After falling in love with Laneige's Cream Skin Refiner back in 2019, I've since had it in my routine for as long as I can remember. Alternating between the mini bottle I had and the heavier original glass bottle, when I emptied both, it didn't take me long to get my hands on this Mist version. So, is it more convenient and a better packaging option overall?

Let's find out.
PRODUCT DESCRIPTION:
Fine mist spray with 24-hour-lasting hydration.
The formula with an entire bottle of cream melted inside provides a dewiness that lasts for 24 hours.
The ideal circular shape of face-angling from the fine mist spray lands gently on the skin.
FULL INGREDIENTS:
Water/Aqua/Eau, Butylene Glycol, Glycerin, Limnanthes Alba (Meadowfoam) Seed Oil, 1,2-Hexanediol, Polyglyceryl-10 Stearate, Glyceryl Stearate Citrate, Sodium Stearoyl Glutamate, Inulin Lauryl Carbamate, Glyceryl Caprylate, Ethylhexylglycerin, Propanediol, Disodium EDTA, Camellia Sinensis Leaf Extract, Tocopherol.
PACKAGING:
Transparent
slim plastic bottle
with a
fine mist nozzle
mechanism under a plastic translucent cap. Quite travel-friendly, however I do find that the
cap tends to slip off easily
so that can be annoying and messy if the contents were to spill.
I also wish the mist mechanism could be pressed down longer for extended dispersion –  it's currently too quick for my liking – or that the dispersion area was wider.
PERIOD AFTER OPENING (PAO):
12 months
HOW TO USE:
When the skin feels dry, hold the mist 20-30cm away from the face, close your eyes and gently spray on your entire face. You can use at any time – before and after makeup!
SCENT:
It's unscented (no artificial fragrance nor essential oils) but there is a mild milky scent.
TEXTURE/FINISH:
Lightweight milky-white consistency with a slight oily feel which becomes more noticeable when more layers of the CSR is applied onto the skin.  Spreads and absorbs into the skin very easily. Leaves a deeply moisturizing finish and layers well under lotions, creams, and sunscreens.
MY SKIN TYPE:
Sensitive (prone to redness and irritation), combination-dry, acne-prone and dehydrated.
OVERALL THOUGHTS & EXPERIENCE:
In terms of the product, I really have no complaints because the Laneige Cream Skin Refiner (CSR) formula works exceptionally well for my sensitive skin, which is why it's still my favourite product in my skincare arsenal 'til this day.
Laneige Cream Skin Refiner Mist 120ml
For me, I find that
my skin just drinks it up
, despite the slight oily feel it may leave behind if layered on consecutively. It's definitely
my go-to product to help heal and strengthen my moisture barrier
overtime, if ever I experience irritated, dry or dehydrated skin days.
So, the question now of course, is how well the CSR works when packaged in a mist bottle.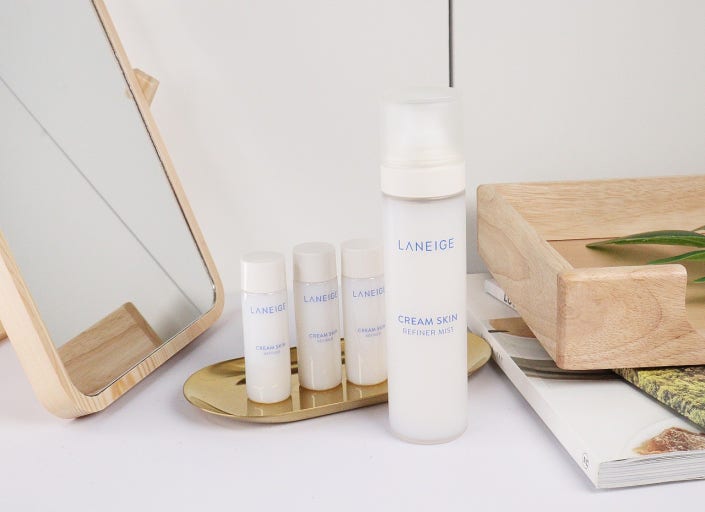 To be honest, there are pros and cons to it. The huge pro being that yes, in this form, the CSR is infinitely 
more convenient
 to use. Just 3-4 spritz to the face, pat it all in, and you're done! I've found this increasingly enjoyable, especially on #lazyskindays where I don't have the energy to apply multiple skincare steps.
So, what might be the con? Well, I find that the
packaging is quite finicky
at times. As mentioned, the cap tends to fall off or uncap easily when jostled, and the mist mechanism could be improved, I think.
But honestly, other than those fussy issues, the quality of the actual product remains. Also,
props to Laneige for making the Mist bottle refillable
(or so I've heard); I have not tested this yet, but I'll be sure to do so when the time comes.
MY RATING:
5/5! Solid product, despite the slight packaging issues. The plastic Mist bottle does not feel as luxe as the original glass bottle for the CSR, but I love how convenient this baby is. Will definitely be cherishing all the remaining product I have! Highly recommended for all skin types, especially sensitive skin. Though as always, YMMV!
---