[Korean Cosmetic Review] Belif Creamy Moisturizer Deep Moist 125ml
[Korean Cosmetic Review] 
Belif Creamy Moisturizer Deep Moist 125ml
Belif Creamy Moisturizer Deep Moist 125ml
▶Shop Now◀
When your skin lacks moisture, you may feel that you desperately need to recharge your skin. If you use a product that is too light, that can not overcome the chilly weather so you have to find the right product for you and the product that Coscorea introduces today is so moist that it fills your skin with moisture that it is nicknamed 'moisture explosion'.
Let me introduce Belif Creamy Moisturizer Deep Moisturizer!
All of Belif products have a good scent so they give you a good feeling throughout your skin. Belif Creamy Moisturizer Deep Moisturizer that we are introducing today is not only smells good, but also has a good and mild ingredients so you can use any skin type without any trouble.
Belif Creamy Moisturizer Deep Moist 125ml
▶Shop Now◀
As it is a Moisturizer that gently adheres and moisturizes with rich nutrition, Napiers moisture formula that hydrates the skin along with abundant minerals, helps balance skin damage by preventing oily that is made from over sprayed serum, helps to improve skin damages, reduces skin irritation has been contained and keeps healthy from skin dry and helps to moisture to the skin naturally.
Anyone who wants moist skin with abundant minerals or who wants to hydrate the skin because it is dry. Also we strongly recommend this product for those who want to nourish dry skin.
It feels chewy but it is not heavy at all and does not feel greasy and it is a very silky texture that absorbs well.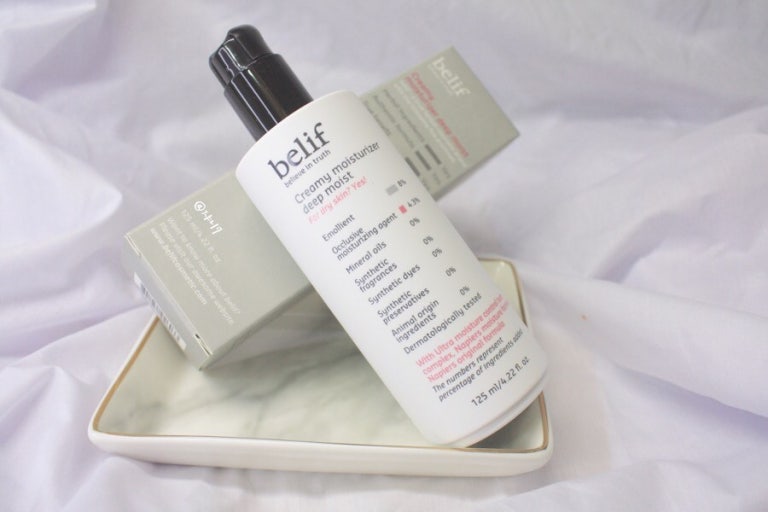 Belif Creamy Moisturizer Deep Moist 125ml
▶Shop Now◀
It is a medium texture of lotion and essence and boasts light applicability. There were reviews that even in the middle of winter, when many users had a biting wind that almost tore their skin, Belief Creamy Moisturizer Deep Moisturizer allowed their skin to remain moist without getting dry from real users.
It has excellent moisture and nutrition effects and there is no product like this to maintain smooth skin! It is a product that we have already well checked positive feedbacks from many people in Korea so we are confidently recommending it to you!
Belif Creamy Moisturizer Deep Moist 125ml
▶Shop Now◀
Pump it all over your face to feel hydrated quickly after using toner and essence! If you have dry skin and need moisture,
buy Belif Creamy Moisturizer Deep Moisturizer at a reasonable price at Coscorea 😊
---