Best & Recommended items of Etude House
♡ Best & Recommended items of Etude House 
♡
1. 
Look at my Eyes Cafe
▶Shop Now◀
- 
Natural color that subtly organizes your eyes and creates a natural and deep look.- Soft & Silky Touch is light and smooth, with long-lasting eye makeup.
How to use
Use a finger or brush to gently spread it on the eyelids, eyeliner, and eyebrow.
- Excellent adhesion of powder and wax and oil components provides long lasting power.
- It's drawn smoothly with a soft touch and colored evenly without getting greasy or clumping.
- You can use Triangle Shaped Pencil to create delicate and easy drawing angles.
- It doesn't look thick at once, so it's layered without clumping to make it look natural you're your eyebrows.
How to use
A. Hold the guide in the shape of the eyebrows with the triangle tip behind and fill it in with a wide side.
B. It's more natural to draw the front part of your eyebrows from bottom to top as if you're planting each strand.
3. Etude Fixing Tint
▶Shop Now◀
- New Hydro Matte Texture that seeps into the lips and fixes as if dyed
- Tint without worrying about it smeared 60 seconds after application
How to use
Apply it all over the lip line to create a full cover lip, or pat it on the center of the lip to create a gradation lip.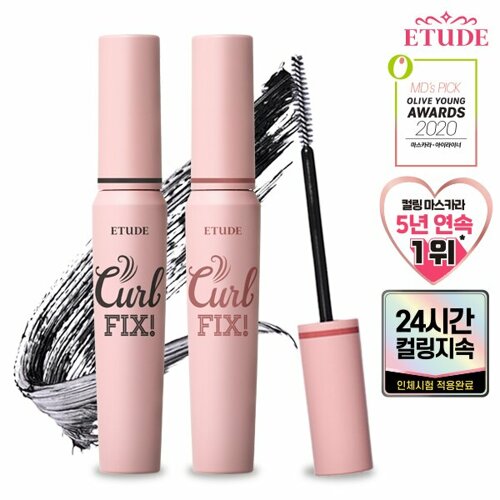 4. Etude Curl Fix Mascara
- Instead of a thick and heavy mascara, it is thinner and smoother than the previous ones.
- Curling Up meticulously inside and back of eyelashes with a slim and tight brush
How to use
Sweep lightly from the roots to the end of the eyelashes.
 5. 

Etude Play Nail

- It applies smoothly and creates a transparent shiny color. 
How to use
A. Apply a base coat to your clean bare nails.
B. Apply the color you want 2-3 times.
C. If you apply a transparent top coat, you can keep the shiny gloss longer
---